PRK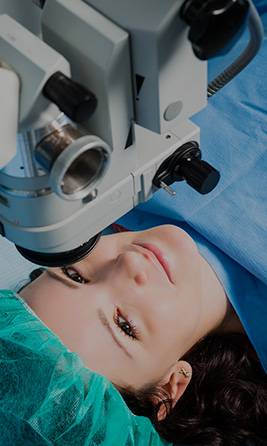 Although LASIK is currently the most popular permanent treatment for correcting vision problems, photorefractive keratectomy is a wonderful option for patients who may not be ideal candidates for LASIK. This quick, in-office procedure reshapes the eye's cornea to correct common vision problems such as astigmatism, nearsightedness, and farsightedness. The experts at Northeast Laser offer this service to help people get excellent vision so they can stop relying on contact lenses or glasses to improve their sight.
Differences Between LASIK and PRK
The primary difference between these two common vision-correction procedures is the creation of a flap to expose the cornea. LASIK uses an instrument called a microkeratome to cut away tissue in the eye to expose the surface of the cornea. PRK involves manually removing the outer layer of the eye to expose the underlying surface of the cornea.
Reasons to Get PRK
PRK was once the preferred method for permanent vision correction, and although LASIK has become increasingly popular, PRK is still a valid treatment option for many people. It is a wonderful alternative for people who are not good candidates for LASIK. People with the following vision problems or complications may be good candidates for PRK.
Large pupils:

If you have unusually large pupils, the machine used to perform LASIK could damage them. The manual approach used to correct the shape of the cornea through PRK may be a better approach.

Astigmatism:

Whether your lens or cornea is shaped irregularly, your vision is blurry, and you have astigmatism. PRK is a good treatment option for people who have corneal astigmatism as this procedure corrects the curvature of the cornea.

Farsightedness:

You may be farsighted if the shape of your cornea is too flat. This results in you being able to see distant objects clearly but cause nearby objects to appear blurry and out of focus.

Thin corneas:

If your corneas are thin, there will not be enough tissue to cut a flap, so you won't be a good candidate for LASIK. PRK is less invasive, so it is a good solution for people with thin corneas.

Nearsightedness:

PRK flattens corneas to improve nearsightedness, a condition in which you can see nearby objects clearly, but distant objects appear blurry.
Steps for PRK
PRK or Photo-Refractive Keratectomy treats refractive errors by removing tissue from the surface of the cornea. First, your eye is completely numbed using "eye drop" anesthesia, and an instrument is placed between the eyelids to prevent blinking. Then, the surgeon removes the epithelium, a thin layer of protective skin that covers the cornea. The patient is told to look directly at the target light during the procedure. In less than a minute, the laser removes the proper amount of tissue while it reshapes the surface of the cornea. By altering the shape or placement of the laser beam, the cornea is made flatter to treat nearsightedness, steeper to treat farsightedness, and/or more spherical to treat astigmatism.
Benefits of PRK
PRK is a simple procedure that can be completed within a few minutes. The recovery process only takes a few days, and most patients do not need pain medication prescribed by their doctors. However, eye drops and oral medications will be provided as necessary. Most people recover fully within a day or two and are free to resume their normal routines within a week.
Immediately after the procedure, patients may experience blurry or hazy vision for one to five days and variable discomfort until the epithelium heals and covers the treated area. Eye drops, pain medication, and a protective contact lens are effective in minimizing this postoperative discomfort. Final visual results may be fully realized anywhere from several days to a month or more as the surface heals in accordance with each individual's healing tendencies. PRK is most often used to treat low to moderate amounts of nearsightedness, farsightedness, and astigmatism.
Advantages of Choosing Northeast Laser for PRK
Led by renowned eye surgeon Dr. John Frangie, M.D., the expert eye specialists at Northeast Laser are committed to helping people get fantastic vision. We carefully evaluate every case to determine which treatment option is most beneficial for you. Because our team of experts has years of experience with correcting vision problems, you can feel comfortable trusting us to improve your eyesight regardless of whether you struggle with nearsightedness, farsightedness, or astigmatism.
If you live in the Springfield, Massachusetts, area, and want to improve your eyesight, LASIK is not your only option. Consult the experts at Northeast Laser to determine if you are a good candidate for PRK. Schedule an appointment with us today or call (413) 363-2732 to learn more about this alternative treatment option.